What causes driveways to crack or sink?
Erosion is a common cause of sunken or cracked driveways. Erosion washes away soil from under your driveway, creating a void or space under the concrete slab. Your driveway can sink in areas where the earth has been washed out. Clogged gutters, downspouts that are not installed correctly, and poor yard drainage can worsen erosion. A heavy load, such as an RV kept in your driveway, can cause sections of the driveway to sink and crack over time. If you have a newer home with a sinking driveway, it could be because the ground around the house is settling or the base of the driveway was not compacted properly. A sinking driveway near your garage can lead to foundation cracks and expensive damage over time.
Our Solution for Cracked Driveways
LevelUp can repair cracked driveways with the NexusPro technology, which is only available from LevelUp and other concrete repair contractors in the Foundation Supportworks® network.
NexusPro is a silicone-based sealant for joints and cracks specially formulated to provide long-lasting flexibility and to stand up to harsh weather conditions. Unlike traditional polyurethane sealants, NexusPro resists UV rays, which means it won't crack, bubble, or dry out. That means a single application can seal the joints and cracks in your concrete driveway for years to come, protecting it from damage caused by soil compaction and washout.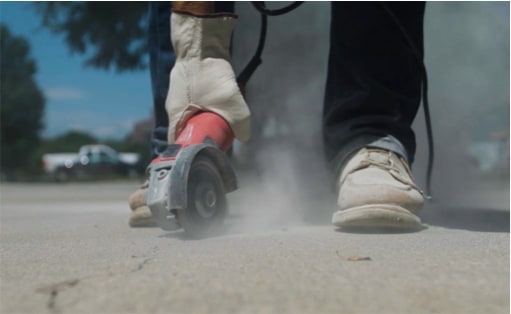 Cracks are drilled, smoothed, and prepared with non-absorbent backer rod filler.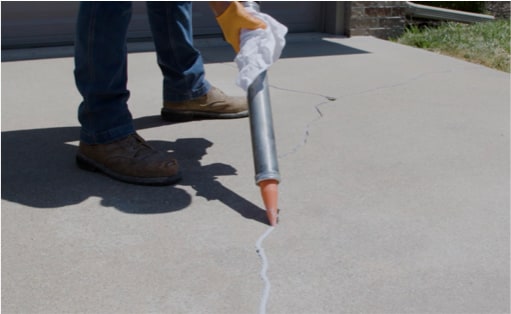 The NexusPro sealant is inserted in the prepared crack or control joint.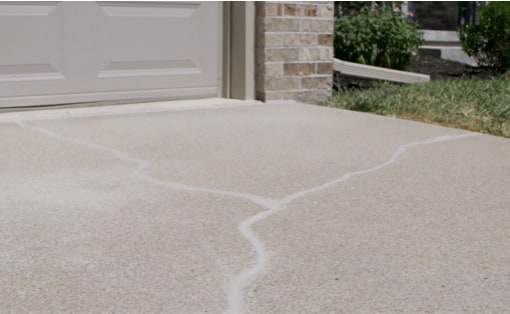 The cracks are detailed with a thin layer of native sand, giving the concrete a uniform, finished appearance.
Our NexusPro cracked concrete solution offers several distinct advantages over traditional sealants:
Driveway Lifting & Leveling
While surface problems can likely be patched, this won't fix the underlying settlement problem, and more cracks can form in your driveway. Although do-it-yourself repairs might be less expensive, they can be messy, require special tools and equipment, and take as long as 30 days before you can use your driveway again. We can fix the problem fast and prevent further sinking with our PolyLevel® lifting and leveling solution. PolyLevel is a fast, effective option for repairing your sunken concrete driveway.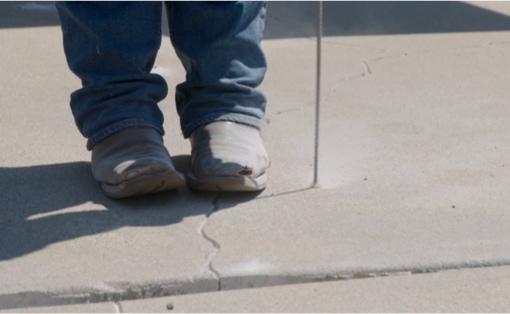 A LevelUp contractor will drill small holes in the slab.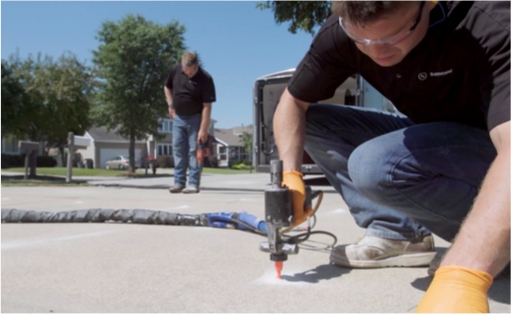 A high-density polyurethane will be injected through the drilled holes. The polymer will spread beneath the slab and lift it.
The holes are patched, and the cracks are filled. You'll be able to use your driveway within one day.
Our PolyLevel lifting and leveling solution offers several distinct advantages over traditional mudjacking methods:
Once your repair is complete, protect your driveway with our SealantPro solution. Unlike concrete sealers available at big-box stores, SealantPro permanently protects concrete with just one application and extends its life up to 5x longer than DIY solutions.
Developed by Foundation Supportworks, SealantPro is a state-of-the-art material that bonds with concrete on a molecular level, permanently protecting it from water, dirt, and other contaminants in a single coat. Once applied, SealantPro dries in minutes and fully cures in just 6 hours so that you can use your driveway or sidewalk the same day. It is simple, fast, economical—and highly effective.
Frequently Asked Questions
We have answers to some of the most common questions we get from homeowners about cracked concrete repair.
What is concrete sealant?

Concrete sealants are liquid-based materials designed to protect concrete from surface damage and corrosion. Though chemical makeup can differ, there are two major types of concrete sealants: topical and penetrating.

Topical sealants:

Sit on top of concrete slabs and form a layer that's impermeable to moisture
Protect the top, but can trap moisture that enters concrete from beneath the slab
Best for interior application and smooth surfaces
Often creates a slick, glossy surface
Widely available
Typically last 5-10 years, requires regular reapplication

Penetrating sealants:

Penetrate the concrete, rather than sitting on top of it
Can be used on more surface types
Ideal for exterior applications
Won't become slick when wet
Long-lasting because they don't wear off the surface and are "breathable""
Flexible Financing Options
We offer flexible financing options for homeowners in Indiana. During our visit, one of our specialists will help you find a financing option that works for you for practically any job. Our experts are trained to use every resource possible to get you the best financing rates available.
Need a repair? LevelUp is here to help.
Contact us to schedule a free estimate, or book an appointment below.
We're looking forward to meeting you!