What causes foundations to sink?
As soil underneath a concrete slab shrinks, settles or washes away, this leaves empty space, or voids, beneath the slab. Concrete slabs are often poured on wet, weak, or poorly compacted soil. Over time, this will lead to settlement of the slab, causing uneven floors or cracking. Inside your home, your floor will pull away from walls and doorways, creating gaps at the seams. Concrete slabs sink and settle over time, and allowing them to go unrepaired can cause serious damage to your home.
Our Solution for Sunken Foundation Slabs
We can fix sunken interior slabs and prevent further sinking with our PolyLevel® lifting and leveling solution. With PolyLevel, we can quickly restore the levelness and safety of your concrete without the mess or cost of self-leveling compounds or traditional mudjacking. PolyLevel uses a high-density polyurethane foam to fill voids and stabilize and lift sinking concrete slabs. The expanding properties of the two-part urethane formula allows for accurate leveling of the slab. The result is a waterproof repair that's much more permanent than mudjacking and other common concrete repair methods.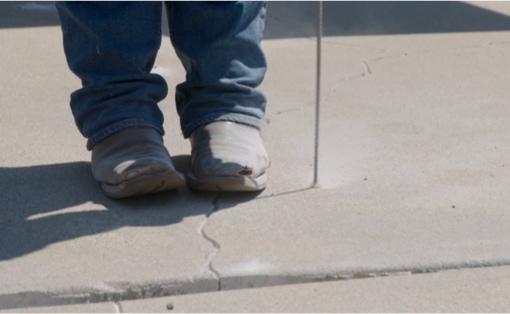 Very small sections of existing finished flooring are removed to access the concrete slab. A LevelUp contractor will drill small holes in the slab in each affected room.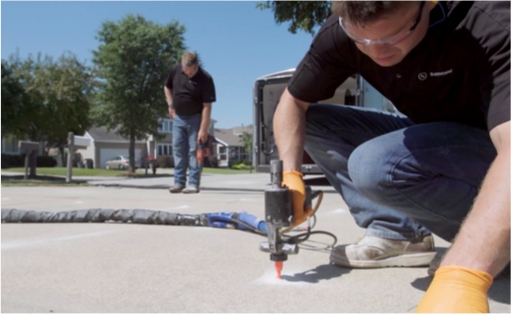 A high-density polyurethane will be injected through the drilled holes. The polymer will spread beneath the slab and lift it, reaching 90% rigidity within 30 minutes.
The holes are patched, and the cracks are filled. Flooring will be able to be replaced over the injection holes slab within one day.
Our PolyLevel lifting and leveling solution offers several distinct advantages over traditional mudjacking methods:
Frequently Asked Questions
We have answers to some of the most common questions we get from homeowners about cracked concrete repair.
What causes concrete to sink?

Poorly compacted soil: When your home was built, soil movement around the building site results in poor compaction. Even when the replaced soil is compacted well, it's never as stable as the original soil. Over time, this can cause voids to form and slabs to settle.

Dry soil: Another cause of soil failure is drought. During dry conditions or even just during periods of warm weather and low precipitation, the soil under your concrete will dry out and shrink, creating voids. The concrete above eventually cracks and sinks into these empty spaces, especially if any weight is placed on it.

Flooding: When the rains return, the water has an even easier pathway under the slab due to cracks and crevices left over from the dry period. And this wet, soft soil is too weak to support the concrete above it. In the worst case, the soil erodes and washes away completely, leaving behind large voids that cannot support the weight of the concrete above.
Flexible Financing Options
We offer flexible financing options for homeowners in Indiana. During our visit, one of our specialists will help you find a financing option that works for you for practically any job. Our experts are trained to use every resource possible to get you the best financing rates available.
Need a repair? LevelUp is here to help.
Contact us to schedule a free estimate, or book an appointment below.
We're looking forward to meeting you!